Five passengers pulled from the tour bus that overturned Thursday morning on the 210 Freeway in Irwindale suffered "pretty basic blunt-force trauma injuries," a hospital physician said.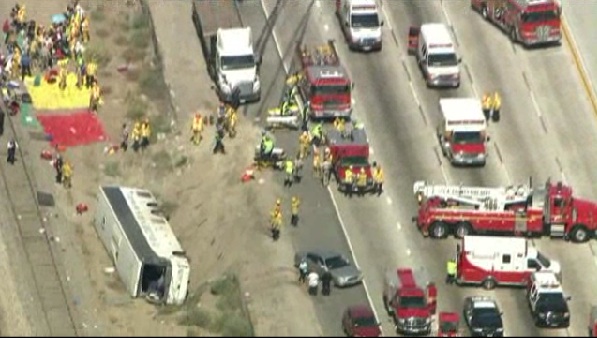 The passengers were among a group of eight who were determined to need immediate medical attention after they were removed from the bus, said Dr. Leo Rodriguez of Los Angeles County-USC Medical Center.
In all, more than 50 people were injured when the chartered tour bus overturned on the eastbound 210 just past the 605 Freeway interchange at about 10 a.m.
PHOTOS: Charter bus overturns on 210 Freeway
The exact number of people injured fluctuated among the various agencies that responded to the crash, with one official putting the total at 55. The original estimate was closer to 30 people injured.
The injuries were described as being minor to moderate, although seven passengers were airlifted to local hospitals.
The bus was headed to San Manuel Indian Bingo and Casino in Highland after picking up passengers in Monterey Park and San Gabriel. Authorities said they did not know what caused the crash, citing the ongoing investigation.